Internet big data and capital markets: a literature review
Financial Innovation
2017
3:6
Received: 6 December 2016
Accepted: 26 March 2017
Published: 20 April 2017
Abstract
Background
Research in various academic disciplines has undergone tremendous changes in the era of big data. Everyone is talking about big data nowadays, but how exactly is it being applied in research on financial studies?
Results
This study summarizes the sources of Internet big data for research related to capital markets and the analytical methods that have been used in the literature. In addition, it presents a review of the research findings based on Internet big data in the field of capital markets and proposes suggestions for future studies in which big data can be applied to examine issues related to capital markets.
Conclusion
(1) Internet big data sources related to present capital market research can be categorized into forum-type data, microblog-type data and search class data. (2) As for research about investors' sentiments on the basis of Internet big data, the main methods of sentiment analysis include building an inventory of lexical categories, using dictionaries for analysis of lexical categories, and machine learning. (3) Many studies address whether Internet big data can predict capital markets. However, they reach no consistent conclusions, which could be due to limitations of sample and analysis method used. (4) Data collection technique and analysis methods require further improvements.
Keywords
Internet big dataFinancial studiesCapital markets
Introduction
This is the era of information explosion and a world overwhelmed by numbers and digits. Research by the International Data Corporation indicates that the global data volume is expected to reach 35 zettabytes (ZB)
1
by 2020. Beyond that, the trend of growth doubling every 2 years will be maintained. This implies that we have entered the era of big data. Simultaneously, the term "big data" has been mentioned repeatedly in both commercial applications and academic research. The World Economic Forum
2
has claimed that big data is a new type of asset class. In
Forbes
magazine, Rotella has labeled big data "the new oil."
3
In addition, research on big data within academia is increasing rapidly; a summary of the number of papers published in 2010–2015 with "big data" as the subject and listed in the CNKI and Web of Science databases is illustrated in Fig.
1
.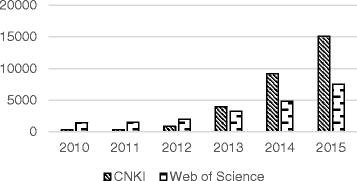 The growing emphasis that academia has placed on research on big data can be discerned intuitively. In fact, academic research on the topic has surged in the last 3 years. Furthermore, other events show that big data plays an important role in the developmental process of modern societies. These include the launch of the Big Data Research and Development Initiative4 by the Obama Administration in 2012 and the special report on big data5 published by the United Nations Global Pulse.
Big data has various unique characteristics, including volume, velocity, variety, and veracity. The application of big data in the financial field has developed rapidly, and such applications are highly valued by various fields in society. The most direct application is the development of various fund products based on big data. The earliest index product based on big data to be launched in China was Dingtoubao by Galaxy Asset Management Co. This product mainly invests in the Teng An 100 Index, a stock market index jointly created by Tencent Holdings Limited and Ji An Financial Information and managed by China Securities Index Co., Ltd. (CSI). This was soon followed by three fund management companies: GF, China Southern, and Bosera. These companies successively developed big data indexes jointly with owners of Internet big data resources, including Baidu, Sina, and Alibaba. This has led to the launch of separate funds, such as the GF's Baifa 100 Index A, China Southern's Big Data 100 Index and Big Data 300 Index A, and Bosera's CSI Taojin Big Data 100 Index A.6
As of October 2016, there were 19 funds in the Chinese market named after big data, with a combined scale of funds amounting to 15 billion RMB.7 One of the funds with outstanding performance is the Dacheng CSI 360 Internet + Big Data 100 Index Fund, which ranked second among stock-oriented funds that were newly launched in 2016. From the second quarter, it ranked top among all the big data funds and was in the top 10 in the Chinese market for stock-oriented funds. Furthermore, it achieved the highest cumulative gain of 25.6%, which not only delighted its fund investors but also surprised those in the big data fund industry.8
As big data has been incorporated successfully into business, how should big data be applied in academic research related to capital markets? To answer this question, we must first clearly ascertain where big data is located and who owns it. At present, it seems that big data is controlled mainly by several Internet companies and public service sectors. Some organizations or departments that are relatively rich in data resources are illustrated in Fig.
2
. However, considering data availability, most research on big data in the financial field has focused on big data from social networking platforms and search engines. Hence, the review subjects for this study are studies on big data from forums, microblogs, and search engines related to the capital markets. The review was undertaken from the perspective of data acquisition.

The main review topics are as follows: (i) big data indexes used in research on capital markets and analysis methods and (ii) research findings on big data indexes related to the field of capital markets. These two aspects are discussed in "Internet big data related to capital markets" and "Application of Internet big data to capital markets" sections, respectively. "Conclusions and future research" section provides recommendations on future research directions.
Review
Internet big data related to capital markets
Observing investors' decision-making processes was difficult prior to the advent of the Internet era. Furthermore, it was difficult to directly observe information that investors are concerned about and their views concerning the market. With the ubiquity of information technology and the Internet, an increasing number of investors are gathering information from the Internet for analysis. Through a click of the mouse and inputs via the keyboard, such investment decision behavior has resulted in the accumulation of a huge amount of unstructured information in the virtual network. For example, Google processed 2 million searches per minute in 2012, whereas Twitter users posted approximately 100,000 tweets per minute (James 2012). Over time, these types of data gradually have become the basic sources of big data for research related to capital markets.
Specifically, most research on Internet big data related to capital markets can be categorized into forum-type, microblog-type, and search-type data. Given the significant differences in the structures of the big data, each type is explained and analyzed separately in the following subsections.
Review
Application of Internet big data to capital markets
Internet big data and stock market performance
The Internet has revolutionized the manner in which information is transmitted and the pattern by which investors process information (Barber and Odean 2001; Moat et al. 2014). At the present stage, big data from forums, microblogs, and search engines are mainly used to examine their impact on stock market performance. Many scholars believe that the various indicators constructed on the basis of big data (e.g., those of market sentiments, divergence in opinions, and level of attention) impact multiple variables, including stock returns, trading volumes, and volatility. Information extracted from Internet big data can definitely explain stock market performance to a certain extent (Alanyali et al. 2013; Bordino et al. 2012; Gloor et al. 2009; Siganos 2013; Sprenger et al. 2014b; Wysocki 1998).
At the level of individual stocks, Wysocki (1998) initially found that the number of stock-related posts published at night is related to trading volumes. Using posts data made on Yahoo! Finance and Raging Bull, Antweiler and Frank (2004) discovered that information contained in the posts can help forecast stock volatility and stock returns, although the latter does not have any economic significance. In addition, the greater the divergence in market sentiments, the larger the stock trading volume. Sprenger et al. (2014b) demonstrated that sentiments contained in tweets are significantly correlated with stock returns. The greater the number of daily microblogs, the larger the stock trading volume. Significant correlations were observed between divergence in market sentiments reflected on the microblogs and stock volatility.
Zhang et al. (2011b) conducted searches in Baidu using keywords. Furthermore, the authors defined the number of web pages returned from the searches as measurement indicators for the amount of information contained in social media. After analysis of information on social media and asset pricing, the authors found that the former is a rich source of effective information that affects abnormal stock returns. In addition, Vlastakis and Markellos (2012) found a significant and positive correlation between the volumes of Google searches and both market trading volumes and volatilities. When investors' level of risk aversion increases, Google search volumes also increase. Ruiz et al. (2012) examined the user-follower relationships established in microblogs and concluded that the connection components within social networks and the number of nodes in interaction graphs are significantly correlated with trading volumes and stock prices, with the correlation being stronger for the former than the latter. Nevertheless, trading strategies developed on the basis of correlation between stock prices are superior to basic trading strategies.
Empirical research by Zhang et al. (2014b) revealed that the intensity of online searches by investors impacts short-term stock returns, short-term trading volumes, and cumulative returns. In addition, investors' online searches have stronger explanatory power and better forecasting ability on the stock market compared with the traditional variables of investors' sentiments and level of attention. Shen et al. (2013) discovered that for a company facing negative public opinion about its private placement, the excess returns on stocks subsequent to the private placement notice are significantly negative.
Da et al. (2011a) found that an increase in search volumes often meant a rise in stock prices over the subsequent fortnight, in addition to price reversals within the year. A similar reversal effect exists in the Chinese stock market (Yu and Zhang 2012; Zhang et al. 2014a). Other scholars have analyzed the link between search volumes and initial public offering (IPO) premiums. Da et al. (2011a) found that an increase in searches prior to IPO indicates greater gains on the first day when the shares are listed. The study by Song et al. (2011), based on data from Google Trends, indicated that online search volumes for a pre-IPO stock have better explanatory power and forecasting ability on a company's level of stock sales, excess returns on the first day of trading, and long-term performance. Search volumes can explain 23% of the first-day excess returns and 10% or more of long-term cumulative returns. In addition, results from the empirical research by Nan (2015) indicate a significant and positive correlation between divergence of online opinions in stock message boards and IPO premiums.
For the indexes, Zhang et al. (2011a) found that the proportion of emotion-related vocabulary on microblogs is significantly and negatively correlated with the Dow Jones Index, NASDAQ Index, and S&P 500 Index. However, the proportion is significantly and positively correlated with the Volatility Index. For the Dow Jones Index, Bollen et al. (2011b) showed that the addition of sentiment-type indicators significantly improves forecasting results. The accuracy of analysis for the daily direction of change in the Dow Jones Index was 86.7%, while the mean absolute percentage error decreased by 6%.
Da et al. (2015) found that the FEARS Index developed using Google's search data can predict trends in short-term returns, volatility changes, and capital flows of mutual funds. Furthermore, the addition of Twitter data improves the model's forecasting accuracy of the S&P 500 Index. Cheng and Lin (2013) showed that sentiment indicators of investors on social media are positively correlated with stock market index returns and trading volumes. The impact of those two factors on sentiment indicators can last for more than 40 trading days.
Mao et al. (2012) undertook a comprehensive analysis of the behavioral characteristics of Internet big data and various aspects of the stock market. They further analyzed the correlation between the number of Twitter posts and the stock market from the levels of individual stocks, industries, and indexes. Furthermore, they showed that Twitter could help predict stock market performance, especially at the indexes level.
However, the results of some empirical research has revealed that Internet big data does not improve forecasting results on the stock market. Kim and Kim (2014) highlighted that market sentiments contained in posts on message boards cannot predict future returns, volatilities, and trading volumes of stocks. In addition, the findings of Tumarkin and Whitelaw (2001) demonstrated that information in posts on message boards cannot predict stock returns or excess trading volumes, thereby supporting the efficient market hypothesis. Although Zhao et al. (2013) proved a positive correlation between search intensities on Baidu and stock returns, the rate of change in the level of attention is not a significant risk factor. The authors concluded that search intensities on Baidu do not systematically affect stock returns.
Although Internet big data was found to impact stock market performance, studies have shown that stock market performance similarly affects the behavioral characteristics of online investors. Kim and Kim (2014) discovered that sentiments in investors' posts are affected by past performance of the stock. Zhang et al. (2014b) indicated that although the stock market can affect online searches, online searching behaviors affect and predict stock market performance to a greater extent. The endogenous problem that exists between online searches and stock returns only has a minimal impact on forecasting ability.
Some scholars believe that the forecasting results of Internet big data on the stock market are affected by other factors. Many of these authors have discussed the relationship between the weight ratio of investor information and forecasting ability. Gu et al. (2006) weighed each post's recommendation by its author's credibility based on the accuracy of his/her past posts. The authors proved that a credibility-weighted recommendation of a stock message board can predict stock returns but a simple-weighted recommendation cannot. Yang et al. (2015) found that for the Twitter social network, weighted sentiment indicators based on critical nodes have better forecasting ability for the financial market than do general sentiment indicators. Zhang et al. (2016) identified financial users who were invited and certified by Sina Weibo as "celebrities." Through event study analysis, the authors determined that posts made by celebrities could significantly predict stock returns compared to those made by ordinary users. The former contained more future public information and current private information, whereas the latter mostly comprised outdated information, indicating that the role of ordinary users tended toward one of information follower rather than of provider.
However, other scholars have learned that investors who are more influential might not publish information with better forecasting ability. According to Sul et al. (2016), tweets published by users with more followers are unable to predict stock returns, but those by fewer followers significantly impact future stock returns. In this regard, the authors believed that information disseminated by the former is quickly reflected in the stock prices and, hence, is not predictive. This reason was supported when analyzing the number of shares. Sul et al. (2016) further found that the more a piece of information is shared, the poorer is its forecasting results and vice versa. A trading strategy based on the aforementioned findings can achieve annualized returns of 11–15%.
Considering that Internet big data has the advantage of geographical identification, some scholars have introduced home bias into their studies on forecasting ability. Dong and Xiao (2011) established that the phenomenon of home bias exists in communication on stock message boards. There is a greater probability that investors in stock message boards will participate in discussions about local stock information. This home bias significantly impacts stock prices. The larger the proportion of local investors involved in information exchange, the higher are stock prices.
Huang et al. (2016) used IP data from Eastmoney.com to construct a quantitative indicator of investors concerned about home bias. The construction of this indicator is more refined compared with that by Dong and Xiao (2011). Their findings demonstrated that the situation in which investors are concerned about home bias is more severe in less developed regions and that the level of concern is affected by market size, turnover rate, and name of securities. Ackert et al. (2016) found that the advice of opinion leaders has greater investment value. In addition, the authors were more concerned about corporations from "home" and, thus, were more accurate when making related forecasts.
Nevertheless, other scholars have held the view that Internet big data's forecasting ability with regard to stock market performance is affected by other factors, including the difficulty of a stock being arbitraged, level of attention on the company concerned, event type, and disclosure environment. Joseph et al. (2011) compiled search data on S&P 500 component stocks and defined search intensity as the indicator for investors' market sentiments. Search intensity is considered to forecast weekly stock returns and trading volumes steadily. Moreover, the relationship between returns and search volume might be affected by the difficulty of a stock being arbitraged. For companies that received less attention from the market, Blankespoor et al. (2013) established that the posting of information via Twitter can reduce the degree of information asymmetry. Furthermore, the authors established that a positive correlation exists between the level of information dissemination and stock liquidity. In addition, Sprenger et al. (2014a) indicated that advanced stock returns for good news are higher than those for bad news and that the impact of news events on stock markets significantly differs for various event types.
The stocks of a small company are small cap and have weak profitability and poor underwriting capacity. Nan (2015) discovered that the IPO premiums for such stocks are more vulnerable to divergence of opinions among investors on stock message boards. Xu and Chen (2016) empirically revealed that disclosure via microblogs could significantly increase same day excess returns and excess trading volumes for the company's stocks. The level of increase is affected not only by the degree of disclosure intensity and information density of the disclosure but also by noise information in the microblogs. In addition, when microblogs are used to disseminate information that has already been made public, the resultant market response will be stronger than an announcement that is not circulated via microblogs. The impact of disclosures via microblogs is greater for companies that are relatively out of the limelight, and the effect of such disclosures on the trading behavior of individual investors is more significant.
Internet big data and other research related to capital markets
Other studies have been conducted in areas outside of stock market performance. These studies have found that Internet big data can predict the performance of companies. Da et al. (2011b) demonstrated that the search intensity for companies with main products can predict their corporate profitability upon listing. The forecasting effect is especially significant for corporations that have fewer products and for growth companies. In addition, Bartov et al. (2015) discovered that overall sentiment indicators can predict a company's quarterly profitability, in addition to excess earnings after announcement of its quarterly earnings data. This forecasting effect is more pronounced for companies whose information environments are poorer. Shen et al. (2013) found that for companies facing more negative public opinions, the probability of their performance declining after implementation of private placement is higher.
Other scholars' area of interest is the impact of Internet big data on the regulatory mechanism. An example is the empirical research by Shen et al. (2013), who found that companies facing negative public opinions about theirs private placements have a significantly lower probability of their private placement proposals being approved by the relevant departments after evaluation. However, such negative public opinions do not significantly impact the probability of the private placement proposal being passed at shareholders' meetings. Separately, studies about the herding effect have demonstrated that the immediate and next day effects are weakened by online communication. Dynamic interactions exist between this effect in the stock market and online communication; the latter can weaken the herding effect, suppress the continued spread of herding behavior, and improve market efficiency (Zheng et al. 2015).
Conclusions and future research
From the literature review, Internet big data sources related to present capital markets research can be categorized into forum-type data, microblog-type data and search class data. Based on these data, researchers can build some more complicated variables to analyze traditional questions. With regards to research about investors' sentiments based on Internet big data, the main methods of sentiments analysis include building an inventory of lexical categories, using dictionaries for analysis of lexical categories, and machine learning. Many studies analyze whether Internet big data can predict capital markets. but they reach no consistent conclusions, which might be due to sample and analysis methodlimitations.
Through the summary stated above, we believe that research on Internet big data and capital markets has achieved some results. Nevertheless, there remains room for improvement and enhancement in the methods used for data collection and analysis, as well as the areas covered in the research. In most existing studies about Internet big data and capital markets, data collection was mainly undertaken for forum, microblog, and search classes of big data. From the perspective of data acquisition, the majority of the samples in the literature were treated as representative samples. These included the component stocks of the various indexes and specified stocks of high-tech enterprises. The majority of the samples did not strictly comply with the definition of research based on full samples, which should be an important characteristic of big data research. Moreover, the data source was usually a single and particular platform. Relatively few studies have analyzed data that were comprehensively collected from multiple platforms. Overall research based on big data would benefit if there were bigger breakthroughs in terms of data collection and information aggregation.
The time spans of many studies tended to be relatively short because these were limited by the short traceback time of data from many platforms. In addition, the degree of replicability of research conclusions by other scholars was low, and the conclusions did not facilitate multiangle studies for a specific issue using the same benchmarks as the basis. This issue can be resolved only through the establishment of specialized databases that cater to research. This would require the cooperation of corporations that are sources of big data through the implementation of an appropriate method.
Presently, Twitter has been officially authorized and is building the GNIP database for supporting research (Bartov et al. 2015). However, specialized databases have not yet been developed for other forum- and microblog-class platforms. Separately, most study samples were collected by the study teams themselves programming. During the initial sample collection stage, it was inevitable that microblog- and search-class big data face the problem of noise interference. The direction of future research for sample collection algorithms is to identify methods for the accurate identification and collection of fuzzy but relevant information (Godbole et al. 2007). Big data research samples will undoubtedly be more comparable if specialized databases were to be established through the application of unified technical means across big data platforms, which are suitable for research use.
From the perspective of data analysis, analytical methods used in current studies have remained relatively simple and have room for improvement in terms of accuracy level. Taking the textual analysis technique as an example, Koppel and Shtrimberg (2006) found that the classification accuracy of machine learning algorithms can reach 70.3 and 65.9% for intra-sample and out-of-sample classifications, respectively. In addition, high overall accuracy in classification of textual sentiment has been achieved through the machine learning method. However, even higher accuracy levels would be beneficial for eliminating noise interference in studies, thereby ensuring stability of the conclusions (Nardo et al. 2016).
This is especially the case for textual analysis of Chinese big data. Research on big data and capital markets mainly depends on manual identification, which involves subjective judgments, causing differences to remain between keywords selected in most studies. This situation introduces a certain degree of interference to the stability of conclusions. Many highly effective algorithms for mining of textual semantics have been introduced progressively into the field of financial research. These include different classifier algorithms coupled with a voting theme (Das and Chen 2007), support vector machines (De Choudhury et al. 2008), and five-stage filtering (Bettman et al. 2010).
At present, studies on Internet big data are mainly focused on their forecasting effects on stock market performances. Relatively few scholars have discussed the impact of Internet big data on corporate behavior. In the era of big data, it is possible to apply Internet big data to the forecasting of not only stock market performance but also companies' performance levels (Da et al. 2011b). Furthermore, Shen et al. (2013) indicated that such data can be used to forecast the probability of decline in companies' future performances. Bartov et al. (2015) found that overall sentiment indicators can predict companies' quarterly profitability.
Simultaneously, the literature has examined the impact of Internet big data on regulatory mechanisms (Shen et al. 2013). In modern societies, companies' management teams are in environments surrounded by massive volumes of information. Are a company's decisions on capital structure, corporate governance, and other corporate behavior somehow affected by these Internet big data? These relationships await further research by scholars.
Footnotes
1
In computer terminology, ZB refers to one sextillion bytes. The term KB in our daily usage is the acronym for "kilobyte."
2
World Economic Forum: Unlocking the value of personal data: From collection to usage, 2013.
3
Rotella, P. (2012, April 2). Is data the new oil? Forbes.
5
UN Global Pulse. Big data for development: Challenges & opportunities, 2012.
9
According to the statistics by China Webmaster (http://top.chinaz.com/), the overall popularity ranking of Eastmoney.com's stock message boards far exceeds that of other stock message boards.
Declarations
Acknowledgements
This paper is funded by National Nature Sciences Foundation of China (No. 71372148).
Funding
National Nature Sciences Foundation of China (No. 71372148).
Authors' contribution
GL gave the main idea of the review paper and gave some improvement suggestions. MY collected references and wrote the main body for the paper. Both authors read and approved the final manuscript.
Authors' information
Minjian Ye is a PhD student at Sun Yat-Sen Business School, Sun Yat-Sen University. His research interests are corporate governance, capital structure, and big data analysis.
Guangzhong Li is a professor of finance at Sun Yat-Sen Business School, Sun Yat-Sen University. He has published several papers in Review of Finance、Journal of Corporate Finance、Journal of International Money and Finance、Journal of Business Finance and Accounting、Journal of Comparative Economics. His research interests are corporate finance, financial institution, and big data analysis.
Competing interests
The authors declare that they have no competing interests.
Publisher's Note
Springer Nature remains neutral with regard to jurisdictional claims in published maps and institutional affiliations.
Open AccessThis article is distributed under the terms of the Creative Commons Attribution 4.0 International License (http://creativecommons.org/licenses/by/4.0/), which permits unrestricted use, distribution, and reproduction in any medium, provided you give appropriate credit to the original author(s) and the source, provide a link to the Creative Commons license, and indicate if changes were made.
Authors' Affiliations
(1)
Sun Yat-Sen Business School, Sun Yat-Sen University, Guangzhou, China