Financial Innovation is pleased to announce the winners of its annual awards for 2022. This year, we have recognized three awards: Best Paper Award, Outstanding Editor Award, and Outstanding Contribution Award.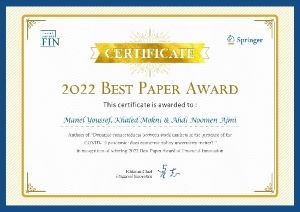 The Best Paper Award goes to Manel Youssef, Khaled Mokni, and Ahdi Noomen Ajmi for their research article titled "Dynamic connectedness between stock markets in the presence of the COVID-19 pandemic: does economic policy uncertainty matter?" The paper provides a comprehensive analysis of the impact of the pandemic on global stock markets and the role of economic policy uncertainty in determining the dynamic connectedness between markets.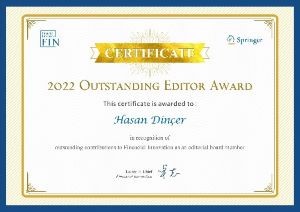 The Outstanding Editor Award was presented to Hasan Dinçer for his exceptional contributions to FIN. As an editorial board member, Dr. Dinçer consistently demonstrated a commitment to promoting high-quality research and advancing the financial field through his high-quality publications, organization of special issues, and meticulous reviews.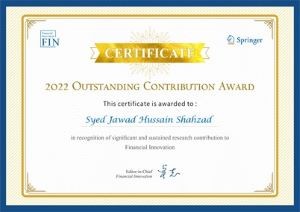 Finally, the Outstanding Contribution Award goes to Syed Jawad Hussain Shahzad in recognition of his significant contributions to the field of financial innovation. His numerous high-quality publications in FIN have not only advanced the development of FIN, but also significantly contributed to the progress of research in the field of finance.
The award winners were selected by a panel of experts from FIN's Editorial Board, who reviewed all submissions and made their final decision based on the quality and impact of each contribution. We congratulate this year's award winners and look forward to their continued contributions to the field of financial innovation.